Blue Moki
LATRIDOPSIS CILIARIS
Moki
Lengths available

55–70cm

Weights available

2–3kg

Up to 10kg
Download as pdf
Well textured flesh with plenty of fatty content around the skin.
Grey-blue body with broad dark bands across the back and silvery-white on the sides and belly.  The body is deep and compressed with large firm scales and the head has thick, fleshy lips. Juveniles live in shallow, rocky regions while adults generally school over the sandy seafloor in depths of up to 150 metres.  Caught year-round off the east coast, from Bay of Plenty to Kaikoura, by trawl or set nets.
Nutritional Information
Energy

417.8kj

Protein

20.9g

Total Fat

1.6g

Sodium

64mg
View more
Nutritional Information
Amounts (per 100g raw fillets)
Energy

417.8kj
Protein

20.9g
Total Fat

1.6g
Saturated Fat

0.4g
Cholesterol

0.2g
Sugar

0.2g
Sodium

64mg
Catch Methods
Trawl

Set Net
Where we're fishing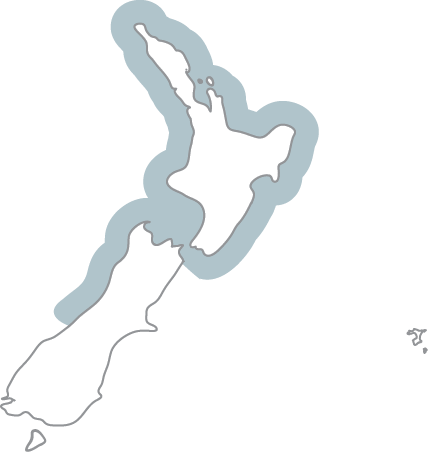 Seasonal Availability
Available

Out of season
Product Specifications
Chilled

Whole fish:

Headed and gutted.

Fillets:

Fillets skin on, fillets skin off.

Keep well chilled 0°C (32°F).

Product received whole should have fillets removed to retain fillet quality and shelf life.
Frozen

Fillets:

Shatter pack 10kg per carton.

Best stored at -18°C (0°F) in supplied strapped cartons to avoid freezer burn/dehydration.

Recommended cooking from frozen or semi frozen state.