Chatham Islands
Applications close 12:00 pm, 26 February 2021.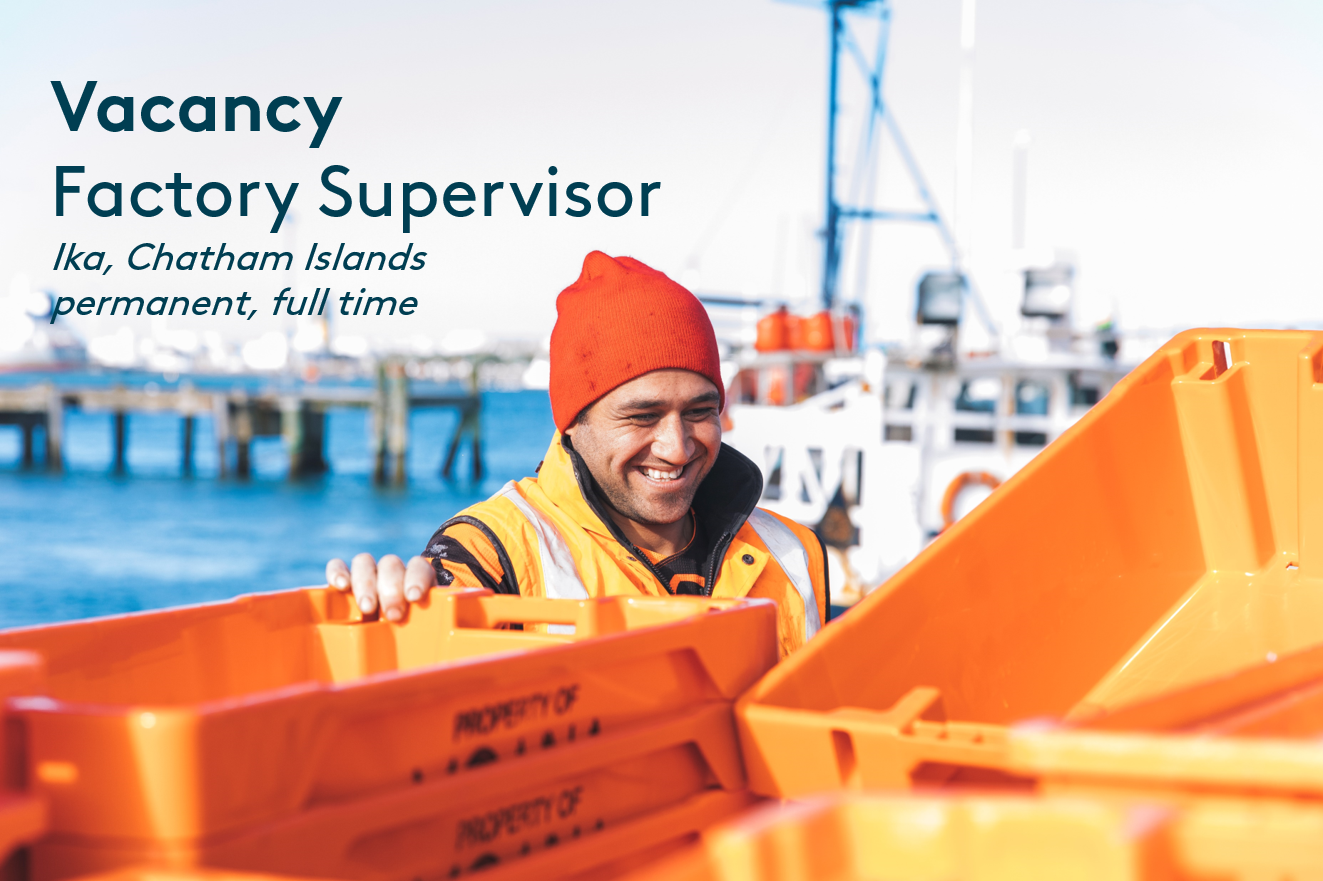 The Chatham Islands lie 750 km to the east of New Zealand's South Island.  Moana is one of the biggest employers on the island,  which is home to a small community of people, surrounded by pristine waters,  that are world renowned for their rock lobster (crayfish), paua (abalone) and blue cod, that are sustainably harvested on these islands.
Our Opportunity:
Our Ika (Inshore) operations are focused on premium kai moana. Right from the time of catch, up until the time of dispatch, we have processes and systems in place to ensure our premium fish remain in prime condition until it reaches our customers across Aotearoa and internationally.
The Factory Supervisor position is integral member of the Chatham's team, helping to ensure the day to day operations are managed in an effective and efficient way that ensures optimal performance and team engagement.
Reporting to and supporting the Factory Manager, you will have responsibility for overseeing day to day factory activities, allocation of tasks, as well as actively participating in processing operations.
Key Responsibilities:
Day to day supervision and coordination of processing plant- ensure running to capacity and product quality is of the highest standards
Support, and actively participate in the implementation and adherence of best practice Health & Safety, and Food Safety & Quality processes, along with Company policies and procedures
Active member of site team, providing support to other teams and managers as required
Coordinating HR and weekly payroll processes; time and attendance and leave request processes
Liaising with Fishers, and working with other Moana factories to ensure transparent, effective & timely communication and effective Ika supply chain
Support Factory Manager with daily toolbox meetings, weekly rostering, team training, setting of performance objectives and targets
You will work closely with the site-based management, to support the operational and commercial success of operations. This includes mentoring and coaching the team to drive engagement and performance. Actively contribute and be committed to continuous improvement, developing trusted and professional relationships at a site and group level.
You will enjoy being hands on, highly organised, and motivated.  A natural leader, who is process orientated, you will understand the importance of embedding a unified culture of transparency and accountability. As an effective and positive communicator, your coaching and engagement style will support the introduction of a new and effective approach to leadership and people management.
A champion for health, wellbeing and safety, you will enjoy working in a changing and growing business, where no one day is the same and you are juggling
What You Will Bring:
This is a challenging and rewarding role and a great opportunity for someone looking for their next career move. With an opportunity for long term growth and career progression this is a chance to  enhance your leadership, operational and continuous improvement expertise and play a key role in the growth and success of our operations.
You will ideally have supervisory experience, and a minimum of three years proven operational and processing experience, and exposure to operational excellence methodologies would be advantageous.
This is a physically demanding role, that requires a healthy & fit individual, who has health & safety management expertise and a HACCP qualification.
With a reputation as a culture builder, who brings people together, and possesses the capability to operate and gain respect from the factory floor right through to executive, you will have a genuine passion for Moana and the seafood industry.
With a background in FMCG, manufacturing or supply chain and/ or experience in the primary industry you are known as a highly motivated, positive individual, with a strong work ethic and the skill to effectively manage conflicting priorities and deliverables.
Your reputation for building trusted and long-term relationships will precede you. The results you have achieved in your career will be just as important as how you went about achieving them, ensuring that values, behaviours and purpose are at the heart of everything you do.
Tō tātou iwi
We are proud of where we have come from, what we stand for and are committed to our role as custodians for our future generations. Moana New Zealand is a purpose led organisation where our people are our greatest strength and pride, and our Moana tikanga (values) are reflected in our everyday life.
If you want to be part of shaping the future of Moana New Zealand, have a genuine connection with what we do and you have what it takes to be successful in this role, we welcome your application of interest.
Please send you resume and application letter c/o` Moana's Recruitment Team, recruitment@moana.co.nz, please write the job title in the subject box.